Packing Tips for Moving
Packing is a complex and important part of moving. If you handle your packing incorrectly, you can end up with damaged or even broken items.
While packing correctly is tricky, it becomes simple with enough research. By listening to the experts, you can understand the steps to take to pack efficiently and securely.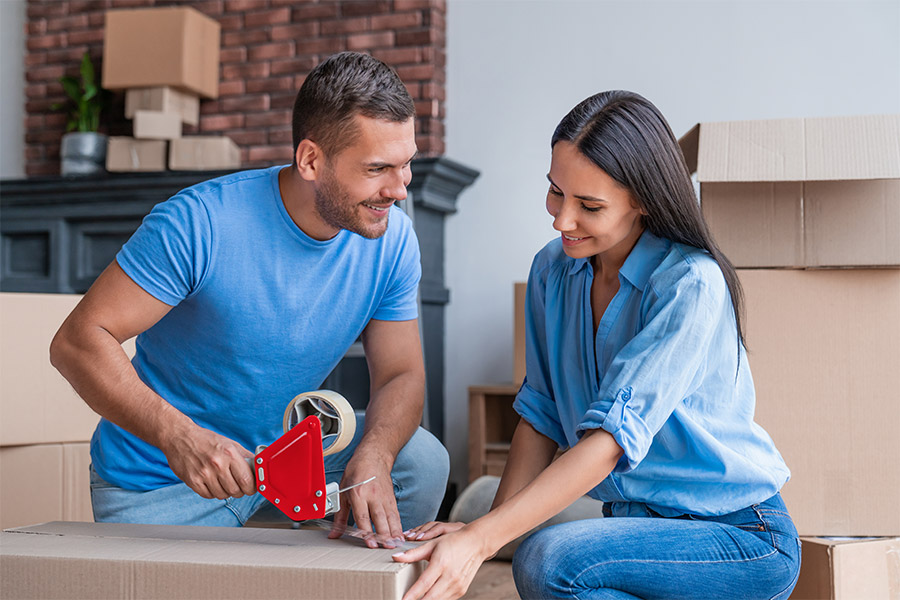 When You Should Begin Packing for Your Move
While it may vary depending on the specifics of your move, here is a good timeline to strive for when it comes to packing for your move:
6-8 Weeks Out: For this starting step, you will plan everything from whether or not you use professional movers to pack for you to what you will put in storage, if anything, and what you will need to pack separate from the rest on moving day.
4-6 Weeks Out: During this time, you will do two things. One is decluttering, where you will make the moving and packing process easy by cutting back on belongings to move. This is done by selling, donating, or throwing away items that you don't need. You will also use this time to order the right packing supplies.
2-3 Weeks Out: Start your packing process with items that you don't use on a daily basis.
1 Week Out: Pack the rest of your items, leaving only what you need for moving day.
Follow this guideline for a packing process that is truly stress-free.
Important Moving Box Info
Moving boxes seem simple, but there are a number of choices that can make things cloudy. To clear things up, here is a list of some of the more common moving box options:
Standard Moving Boxes Sizes:
Small Box, 16" x 12" x 12"
Medium Box, 18" x 16" x 18"
Large Box, 18" x 18" 24"
Extra Large Box, 24" x 20" x 24"
Specialty Moving Boxes:
Dish Pack
Mirror Carton
TV Box
Wardrobe Carton
Made-to-Order Crates
Choose the right boxes that truly fit your belongings. This will make for a more secure fit.
Tips on Packing China for Moving
Glassware and china are fragile, but with the right knowledge, packing them securely is simple.
Dish packs are a great place to start. Put large flat dishes at the bottom. Be sure to put cushioning on both sides and wrap them individually.
On top of those dishes, you can put the rest of your dishware. Here is how to pack individual pieces of china:
Wrap plates in bundles of four with each individually wrapped, and then the whole stack wrapped as a bundle.
Pack bowls the same way but in smaller groups, such as 2 or 3.
Individually wrap drinkware.
Wrap the stem of wine glasses with folded paper before wrapping up the entire glass.
For any other glasses or pieces of china, wrap them up in clean paper, not newspaper, individually. Pad generously with paper. Wrap everything up in newspaper and place gently in a dish pack or their own box, depending on the value and fragility of the piece.
Tips on Packing a Painting
Packing a painting depends on a lot of different factors. It is different if a painting is framed or not, or has a glass panel, or is an oil painting, to name a few examples. No matter what type of painting you have, a mirror carton is almost always the best option. Look for one that is a few inches bigger on each side to allow for proper padding.
Protect framed paintings by padding the corners with cardboard corner protectors. Put these on after you wrap up the painting, not before.
The glass will protect the painting when packing framed pieces with glass covers, but you have to secure the glass to make sure it doesn't go everywhere if it shatters. To do this, put an "X" shape in packing tape on the cover.
If you have a painting that doesn't have a glass cover, completely wrap the painting before putting it in the box. This will prevent friction prints.
For oil paintings that don't have glass covers, avoid newspapers. They're a common material in packing for wrapping and padding, but oil and paper do not mix, which can result in serious damage to your painting.
Be sure to use plenty of padding in your box to prevent friction on your painting.
Tips on Packing Clothes for a Move
While packing, you may realize that your wardrobe is a bit bigger than what you expected. While clothes don't seem to be too heavy, the weight adds up, while things like winter jackets add up to taking up a lot of space. Here are some tips for packing clothes during your move:
Pack some clothes separately for moving week.
Cut down your wardrobe by selling, donating, or throwing away what you don't often wear.
Utilize wardrobe boxes to make packing and unpacking easier.
Try keeping your clothes folded in your dresser to avoid having to pack some of your clothes.
It can be tempting to get a big cardboard box and throw as many clothes in as possible, but be aware of the weight that this can add up too.
Be sure to start in on this early. Packing away clothes you don't use as often first will make the process easier.
Frequently Asked Packing Questions
We've come across a number of questions that people have about packing. Here are some of the more popular ones that we have seen:
Could I Save Money By Using Bigger Boxes?
Approach with caution. Boxes can only hold so much, and as they get bigger there is less structure at the bottom, which means they can't hold any more weight than a smaller box. Use bigger boxes for large yet light items, such as winter coats or blankets.
Is Packing for an Apartment Move Different?
Size is the biggest factor in an apartment move. If you're moving from an apartment into a house, it should be no problem. However, if you're moving into an apartment, you may be tight on space. While most houses have basements, only some apartments have storage, which is typically pretty small. Consider this when determining what to pack.
How Can Professional Movers Help with the Packing Process?
You can have a hands-free move with no packing at all by using a full-service mover. They can handle everything. You will also have the option of having them pack only certain items, such as the more fragile or cumbersome items.
What to Look For When Hiring Professional Packers
If the scale of the packing process seems a bit too big for what you want to handle, consider professional movers that handle packing.
Be sure to consider everything from licenses to certifications to years of experience when choosing a moving company to handle your packing. To make the process easier, we have included a list of services that each moving company on our curated list handles. Find your Preferred Mover that offers packing.